- - - - - - - - - - - - - - - - -
Profile
What's Included - A complete locked-up
weather-tight, structurally engineered shell package!
Why pay $1 for 65¢ worth of materials?
What we provide: Pre-built "Panelized" Packages... at no added cost! Pre-built exterior and interior wall panels, pre-cut roof system, pre-built stairs (per plans), and complete framing plans that show panel numbers and construction detail. Also included are choice of colored steel roofing, pre-stained cedar decks, insulated premium "Low E" energy-efficient windows, exterior and interior passage doors, door locks, nails, bolts, fasteners, touch-up stain, plus structural plans and blueprints for construction. (More about our pre-built "panelized" packages).
What you provide: Excavation, concrete foundation, rough plumbing (including septic system), rough electrical, insulation, drywall, cabinets, floor coverings, and all interior finishing materials.
Delivery Time: 8 weeks from date of initial deposit, and ask about our lower delivery costs which saves you thousands!
Below are some of the items included in every Home and Cabin Kit package.

8 NEW Labor-saving pre-built wall panels, pre-built stairs, and pre-cut roofing... saves thousands in labor costs
8 NEW Lower delivery costs - saves you thousands
8 NEW Premium energy-efficient "Low E" window glass, "U" factor of 0.29 - "70% of the weather stays outdoors"
8 8" KD bevel cedar siding, pre-stained, choice of colors
8 NEW California-approved fire-rated "Class A" 8" KD bevel cedar siding, pre-stained, choice of colors
8 NEW "Hardi-Plank" siding for high wildfire areas. No added cost. (meets "Wildland Urban fire codes.")
8 2"x6" Kiln-dried (KD) studs for exterior walls, (allows up to R-26 insulation)
8 12" KD roof rafters (allows up to R-38 insulation) as per plans
8 2"x6" to 2"x10" KD ceiling joists as per code per plans
8 All KD 2"x4" and 2"x6" interior wall framing, stairs and loft floors to code
8 All interior passage doors, including hardware
8 2"x10-12" KD floor joists with cross bracing, per code
8 3/4" T&G fir plywood sub-floors, per code
8 Gluelam-engineered ridges and beams - as per plans
8 OSB or 1/2" plywood exterior wall sheathing as per code
8 OSB or 1/2" plywood exterior roof sheathing as per code
8 2"x4" KD roof strapping
8 Steel fire proof roofing, choice of colors, 26-29gauge
8 Roof flashing, ridges, valleys, trims and felt underlayment
8 1"x8" KD cedar fascia boards, pre-stained, choice of colors
8 1"x4" and 1"x6" KD cedar door/window trims, pre-stained
8 Pre-stained KD cedar railings as per plans where required
8 Cedar decks, KD, as per plans, 5/4"x6" pre-stained
8 NEW "AZEK" fire-rated exterior decking, California required, 5/4"x6" choice of colors
8 Steel or Fiberglass insulated 3'-wide entry doors w/half-glass panel
8 Brass exterior door lock set(s) with dead bolt(s)
8 6"x to 8"x cedar porch posts, pre-stained
8 Metal flashing material for all door and window openings
8 Building wrap, moisture barrier
8 1"x4" and 1"x6" T&G cedar/pine interior paneling, no stain or pre-stained
8 Optional "silent floor" system using laminated floor joists

General Notes:
8 8 complete sets of plans for bids and permits
8 Foundation plans included - crawlspace (stem-wall), basement, piers, or slab
8 All products and materials designed to meet or exceed the new International Residential Codes ("IRC" and "IBC") in US and Canada
8 Itemized materials list shipped with each cabin package
8 Some materials may be upgraded as per local codes and/or local engineering requirements
8 Some on-site touch-up staining may be required
8 Extra siding stain included for touch-up
8 Extra trim stain included for touch-up
8 Cedar stain: Many colors to choose from, solid and semi-transparent
8 Metal roof colors: See examples on chart this page

All specifications subject to local requirements for roof loads, wind loads and seismic zones. More information on building codes and engineering can be found at this page.

More on pre-built panelized packages - click here.


Color Selections:
The following show the choices and available colors. Complete color selections provided at time of order.

Roof Colors: (Over 20)

Window Colors:

Insulated "Low E" glass:


Stain colors for:
Siding, beams, decks, posts,
fascia, soffits, trims:

Timberlox Stains
by Cloverdale


Hardie-Plank "Select Cedarmill" Siding:
Wood grain, fire-resistant siding, trims and soffit materials - (click here)

Ask about upgraded Fisher stains for Hardie-
Plank "Select Cedarmill" Siding - (click here)

Ask about upgraded Azek "Vintage" fire-
resistant decking required in some
western states - (click here)



Executive Retreat!
"Buckthorn" Model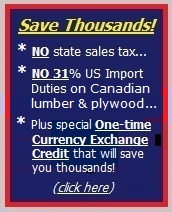 A very special "Thank You"
to customers like these who have helped us become America's #1 Cabin Kit supplier

"We've been customers for years and there is no better home than a Cabin Kit Home. Top quality, and the best service you could ask for."
--Patrick & Barbara, Fortine, MT
"We love our cabin, thank you and your company so much."
--Patti & Michael, CA
"We have been customers for seven-plus years and totally love our new Cabin Kit home!"
Mike & Wendy, AZ
"We have several Cabin Kit homes in Arkansas and have been very happy with the quality and the big savings.
Gene Eddleman, AR
"PANELIZED" CABIN KIT
"The panelized package is the only way to go!
--Herman Groman. NV
"Cabin Kit materials are top quality, kiln dried lumber. We saved over $26,000 with their much lower NAFTA pricing."
Dan Leeper, AZ
"The quality of materials is terrific. This is our 4th Cabin Kit package. Your field support is great!"
--Gary Simonsen, Builder, MT
"We really enjoy our Cabin Kit home. The pre-built panels saved us weeks of building time and thousands of dollars in labor costs.
David & Molly Vaux, NM
"We love our cabin. Everything arrived as promised, we'd do it again in a heartbeat. Our builder said he had never seen such quality materials!"
--Vivian and Pixie, CO
We saved more than $16,000 on our new Cabin Kit home, and have been customers for almost 10 years."
Scott and Sandy, ID
"We couldn't be happier. Your design help was great, and the wall panels were perfect. The mountain view from the deck is better than we had hoped."
--Cindy & Dan, WA