Our Customer's Updated Building Costs
The figures below reflect our customer's actual building costs... including our Cabin Kit package and all labor costs. This table allows you to (a) keep track of your building costs, (b) obtain competitive bids, and (c) apply for financing at today's low rates.
Building time: The building time for a complete pre-built "panelized" shell package is usually 12-18 days... including drying in the roof. The time required to finish the inside of the home is usually 8 to 12 weeks... depending on the builder and the suppliers you choose to work with.
Our Customer's Actual Building Costs:
1,100 sf
1,500 sf
1,800 sf
Pre-built "Panelized" Cabin Kit Package
$69,900.00
$99,900.00
$105,900.00
Complete pre-built "panelized" package is included
Included
Included
Included
Sub Total
$69,900.00
$99,900.00
$105,900.00
Add: Foundation - including excavation *
11,400.00
14,000.00
16,300.00
Add: Cost to erect Cabin Kit package - Labor **
13,500.00
16,500.00
20,600.00
Add: Interior Finish Cost ($22-$25/sq.ft.)č
27,400.00
35,500.00
40,800.00
Sub Total
$52,300.00
$66,000.00
$ 77,700.00
Add: Builder's Profit ***
12,500.00
16,000.00
19,000.00
TOTAL Completed Cost of Your Home č č
$134,700.00
$181,900.00
$202,600.00
Your cost per square foot
$121.02
$120.46
$112.56

Notes:
* Actual Cabin Kit customer costs
** Actual Cabin Kit customer costs
*** Average profit earned by builder
Source: National Association of Home Builders
---
---
Financing Available for Cabin Kit packages:
Mortgage Brokers: Mortgage Brokers usually work with several different lenders to get the best terms and lowest possible interest rates for you. In a competitive marketplace, most customers want the best terms with the lowest interest rates available.
What Some Bankers Won't Tell You: Bankers and Direct Lenders usually offer their own programs and their own interest rates. And some of these banks will not even take your home loan or construction loan application unless you first place your checking and/or savings accounts with their institution. Many customers don't think that's fair!
VA Loans: VA loans offer excellent "take-out" loans when you qualify. And almost any lender will work with the VA to provide construction financing based on the customer's VA "take-out" loan commitment. In fact, your banker will usually make you a construction loan once your VA loan application has been approved.
100% Financing is Back. 100% loans are offered to clients and often require a solid credit rating and two forms of collateral—the house and a portion of the client's retirement or investment portfolio in lieu of a traditional cash down payment. (You can call us directly for more information on the financing you need.)
Do You Already Own Your Building Site? Many lenders will loan 80% or more of the cost of your home if you already own your building site. (And in many cases, this will work even if you do not own your building site free and clear.)
Tip: First, order your Cabin Kit plans now so you can obtain a line-item budget from your builder. Second, get a "take-out" loan commitment for the full cost of your new home. Third, consider obtaining your construction loan from a different lender. And fourth, pledge the "take-out" loan as security to the construction lender who needs repayment when the home is completed.
We are not lenders and do not represent bankers, mortgage brokers or real estate lenders. But we are aware of several different loan programs that are available in the marketplace. If you have questions... or would like some added assistance... please feel free to call us directly, toll free: 1-888-358-1113.
Mountain Party Home
"Paint Brush" Model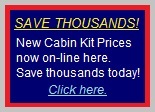 A very special "Thank You"
to customers like these who have helped us become America's #1 Cabin Kit supplier
We've been customers for years and there is no better home than a Cabin Kit Home. Top quality, and the best service you could ask for.
--Patrick & Barbara, Fortine, MT
"We love our cabin, thank you and your company so much."
--Patti & Michael, CA
"We have been customers for seven-plus years and totally love our new Cabin Kit home!"
Mike & Wendy, AZ
"We have several Cabin Kit homes in Arkansas and have been very happy with the quality and the big savings.
Gene Eddleman, AR
"PANELIZED" CABIN KIT
"The panelized package is the only way to go!
--Herman Groman. NV
"Cabin Kit materials are top quality, kiln dried lumber. We saved over $26,000 with their much lower NAFTA pricing."
Dan Leeper, AZ
"The quality of materials is terrific. This is our 4th Cabin Kit package. Your field support is great!"
--Gary Simonsen, Builder, MT
"We really enjoy our Cabin Kit home. The pre-built panels saved us weeks of building time and thousands of dollars in labor costs.
David & Molly Vaux, NM
"We love our cabin. Everything arrived as promised, we'd do it again in a heartbeat. Our builder said he had never seen such quality materials!"
--Vivian and Pixie, CO
We saved more than $16,000 on our new Cabin Kit home, and have been customers for almost 10 years."
Scott and Sandy, ID
"We couldn't be happier. Your design help was great, and the wall panels were perfect. The mountain view from the deck is better than we had hoped."
--Cindy & Dan, WA