Pre-built "Panelized" Home Packages... at no added cost!
Why would you pay $1 for 65˘ worth of materials?
Our "Peaks" model shown below:

We provide the pre-built "Panelized" package... at no added cost:
What you provide: Foundation, plumbing, electric, insulation, drywall, cabinets, floor coverings. See our customer's Cabin Kit interiors for terrific interior design ideas and finishing.
Delivery Time: 8 weeks from date of initial deposit.

Savings, Benefits and Advantages-
Pre-built Components-
Over 40% of today's homes use factory-built components. "Systems-engineered" panels mean structurally engineered homes built with regulated quality control.

Our "panelized" packages include pre-built exterior wall panels, pre-built interior wall panels, pre-cut roof system, plus complete "panelized" plans... with pre-numbered wall panels for quick, easy installation.
"This adds quality to the home-building process," says Lynn Gastineau of the National Association of Home Builders. Panels are factory-built where materials are sheltered from theft, weather and vandalism. The panels are then shipped to the customer and placed on a conventional foundation.

Saves thousands in labor costs-
Systems-built panels save consumers thousands in labor and building costs. No warped lumber, no theft or damage. "Systems-built panels mean square corners and plumb walls for all doors and windows."

Our own special software gives customers almost unlimited options in floor plans and styles... plus detailed plans that give customers, lenders, builders and inspectors assurance that construction meets all local codes and requirements.
All Cabin Kits use pre-built "Panelized" packages... at no added cost!


Cabin in the Woods!
"Foxtail" Model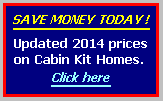 A very special "Thank You"
to customers like these who have helped us become America's #1 Cabin Kit supplier
We've been customers for years and there is no better home than a Cabin Kit Home. Top quality, and the best service you could ask for.
--Patrick & Barbara, Fortine, MT
"We love our cabin, thank you and your company so much."
--Patti & Michael, CA
"We have been customers for seven-plus years and totally love our new Cabin Kit home!"
Mike & Wendy, AZ
"We have several Cabin Kit homes in Arkansas and have been very happy with the quality and the big savings.
Gene Eddleman, AR
"PANELIZED" CABIN KIT
"The panelized package is the only way to go!
--Herman Groman. NV
"Cabin Kit materials are top quality, kiln dried lumber. We saved over $26,000 with their much lower NAFTA pricing."
Dan Leeper, AZ
"The quality of materials is terrific. This is our 4th Cabin Kit package. Your field support is great!"
--Gary Simonsen, Builder, MT
"We really enjoy our Cabin Kit home. The pre-built panels saved us weeks of building time and thousands of dollars in labor costs.
David & Molly Vaux, NM
"We love our cabin. Everything arrived as promised, we'd do it again in a heartbeat. Our builder said he had never seen such quality materials!"
--Vivian and Pixie, CO
We saved more than $16,000 on our new Cabin Kit home, and have been customers for almost 10 years."
Scott and Sandy, ID
"We couldn't be happier. Your design help was great, and the wall panels were perfect. The mountain view from the deck is better than we had hoped."
--Cindy & Dan, WA
Photo Gallery
Toll free
1-888-358-1113
contact us
"Cabin Kit Homes"™
is a licensed trademark and dba of Home & Cabin Services, Inc.,
an Arizona corporation. © 2000-2014
Executive offices: Cardiff-by-the-Sea, California