Building Permits, Building Codes, Engineering
Exclusive "FAST-TRAK" System: Cabin Kit materials packages meet all the new International and Residential Building Codes used by most cities and counties in the United States... and throughout Canada and the UK. Our exclusive "FAST-TRAK" System assures you of a qualified "expediter" on your team:
That each Cabin Kit package is engineered to meet local building requirements such as roof (snow) load, wind load, and seismic zone, and

That all Cabin Kit materials meet or exceed the recognized industry grading standards for lumber, plywood and structural wood products, and

That all Cabin Kit materials meet or exceed the recognized energy efficiency standards for exterior windows and doors, and

That your building permit application will be quickly expedited, processed and approved by your local building department.
YOUR CABIN KIT PLANS
Cabin Kit plans are designed to meet or exceed the International Building and Residential Codes used by most city and county building officials throughout the United States and Canada. Because of roof loads, wind loads and seismic data for your area, however, your local building department may also require special materials or certain structural engineering data before issuing a building permit. Your local building department will give you the data needed for the four categories shown below:
| | | |
| --- | --- | --- |
| | Category | Standard Data |
| | Roof snow load | Up to 52.2 lbs./sq. ft. |
| | Wind speed | Up to 50.0 mph |
| | Seismic zone | Up to 1.0 |
| | Code Book: | "IRC" of "IBC" - (Indicate Year of issue) |
ENGINEERING*. As a matter of policy, Cabin Kit materials packages are complete weather-tight structural shell packages that include (a) pre-built exterior and interior wall panels, (b) a pre-cut rafters and roofing system, (c) premium "Low-E" insulated double-glazed windows, (d) pre-built interior stairs (per plan), and (e) western red cedar siding and trim boards. The packages shipped by our company will include the structural engineering* required by your local building department.
*As a matter of owner safety and fire protection, the "Wildland Urban Interface Codes" (WUI codes) have been adopted by California and other western states. These WUI codes can impact the type of siding to be used, and also require one pane of tempered glass on windows and exterior entry doors. Be sure to ask our building professionals for an update on WUI codes in the state and county where your building site is located.
If special materials or components are required by your local building department, the cost of these materials or components along with any required engineering data will be added as a line item (or items) to the purchase price of your materials package. If you have questions about the roof snow load, wind load, seismic data or any special materials or components that may be required for your area, we will assist you in obtaining that data from your local building department.
*Some areas in the country also require soils and/or foundation engineering and energy (often called "heat-loss") calculations based on factors such as the amount of window glass -vs.- exterior wall surface areas, etc. Engineering for concrete foundations and/or foundation materials, local soils and geotechnical conditions, or for special energy or heat-loss calculations for windows or other components, is not included in the cost of your materials package.
BUILDING PERMITS. Prior to ordering your Cabin Kit materials package, your Cabin Kit plans will be useful in obtaining bids and estimates from local contractors for the assembly and construction of your home, and for interior finishing such as plumbing, electrical, drywall, cabinets, etc. When you order your Cabin Kit materials package, we will provide you with structurally engineered* plans if they are required. And those plans will bear the professional stamp of our state-licensed engineer for your area. We highly recommend that you wait to submit for building permits until you have the engineered, state-stamped plans to include with your permit application. (In fact, most building departments will not accept a permit application without engineered state-stamped plans.) At that time, if your building department requires special windows or other components, or any additional information or engineering data, they will provide you with a written list of the specific items needed. We will gladly furnish your building department, and you, with the information and data requested.
ASSISTANCE. We are accustomed to working with building officials across the country. We will gladly assist you… or your builder or contractor… in completing the building permit process. If you have any questions about your plans or the permit process, feel free to email us a reply... or call directly, toll free: 1-888-358-1113.
UPDATED BUILDING CODES. Adoption of the new International Building Codes ("IBC") and International Residential Codes ("IRC") is nearly complete in all states. In the US, these new building codes generally replace the old Uniform Building Codes ("UBC").
As a matter of policy, all of our Cabin Kit plans and materials packages are designed and continually updated to meet or exceed the new building codes. While this may result in some adjustment in pricing, we believe our customers should always be assured of receiving Cabin Kit plans and materials packages which are fully compliant with these new or updated building codes.
Cabin in the Woods!
"Foxtail" Model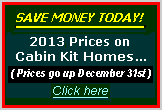 A very special "Thank You"
to customers like these who have helped us become America's #1 Cabin Kit supplier
We've been customers for years and there is no better home than a Cabin Kit Home. Top quality, and the best service you could ask for.
--Patrick & Barbara, Fortine, MT
"We love our cabin, thank you and your company so much."
--Patti & Michael, CA
"We have been customers for seven-plus years and totally love our new Cabin Kit home!"
Mike & Wendy, AZ
"We have several Cabin Kit homes in Arkansas and have been very happy with the quality and the big savings.
Gene Eddleman, AR
"PANELIZED" CABIN KIT
"The panelized package is the only way to go!
--Herman Groman. NV
"Cabin Kit materials are top quality, kiln dried lumber. We saved over $26,000 with their much lower NAFTA pricing."
Dan Leeper, AZ
"The quality of materials is terrific. This is our 4th Cabin Kit package. Your field support is great!"
--Gary Simonsen, Builder, MT
"We really enjoy our Cabin Kit home. The pre-built panels saved us weeks of building time and thousands of dollars in labor costs.
David & Molly Vaux, NM
"We love our cabin. Everything arrived as promised, we'd do it again in a heartbeat. Our builder said he had never seen such quality materials!"
--Vivian and Pixie, CO
We saved more than $16,000 on our new Cabin Kit home, and have been customers for almost 10 years."
Scott and Sandy, ID
"We couldn't be happier. Your design help was great, and the wall panels were perfect. The mountain view from the deck is better than we had hoped."
--Cindy & Dan, WA
Photo Gallery