- - - - - - - - - - - - - - - - -
PROFILE
Choosing Your Builder
All Cabin Kit Homes offer pre-built "panelized" packages... at no added cost!
Included are pre-built exterior and interior wall panels, pre-cut roof system, plus
pre-built stairs (per model) and complete numbered "panelized" plans... for fast and easy installation.
Pre-built "panelized" packages save time, labor and building costs.
Here is where to find good builders:
Local lumber company - Go to the "builder/contractor sales" department. Ask them for the names of two or three good builders. The lumber company always knows the good builders... because the "good" builders always pay their bills and are "good" customers of your local lumber company.

Referrals - Ask neighbors or friends, or look for newly-built homes in your area. Any good licensed contractor who builds quality homes can help you, and always ask for a written quote.


See what the National Association of Home Builders says about "Panelized Building Systems."
Savings, Benefits and Advantages to you-
Lower costs—Saves thousands of dollars in labor and building costs.

Time saved—Gets your home "dried in" in just days instead of weeks.

Happy Builders—Saves time and thousands of dollars in on-site labor costs.

Cuts building time-- 10 to 15 days versus 4-6 weeks.

"Panelized" Plans—Easy to read, easy to build, easy to understand.

Higher quality—Precision pre-built wall panels, plus pre-cut roof system.

Quick, Easy—Numbered panels, easy to handle, quick to install.

Convenience—Eliminates errors, eliminates waste.
---
Builders and contractors use plans to figure out their labor costs. Without plans, builders cannot provide reliable bids or quotes.
Labor Costs: Labor costs represent the time spent... hours, days, weeks, etc.
Materials Costs: Materials costs represent the costs of the materials they provide.
What happens if your builder provides the materials?
Builders can't charge you for the labor cost of building the walls, floors, stairs and roof structure because Cabin Kit Homes provides you with the pre-built "panelized" walls and materials needed for your complete locked-up weather-tight shell package. Under the "NAFTA" free trade agreement between the US and Canada, the cost of materials is at least 31% less than US prices. Plus, you pay no state or county sales taxes... an added savings of at least 7% to 10%! In addition, you pay no builder labor mark-ups of 15% to 20% or more. And even more important, you don't earn the currency exchange credit because of the much stronger US dollar.
Note: When your builder supplies the materials, he will charge you his higher US lumber costs... plus state, county and city sales taxes... plus his mark-up of 15% to 20%. Some builders don't like pre-built "panelized" packages because they don't get their profits and mark-ups on the lumber and plywood!
Most builders, however, like having their customers supply the materials.
Walls, roofing, windows, doors, siding, decks, hardware, etc. It's all included and there is nothing extra to buy. And you are provided with a complete written inventory of everything you ordered. It saves you time, labor costs, and unnecessary trips to the lumber store. And it gives both you and your builder a detailed, numbered list that avoids errors and mistakes.
Note: Why do builders feel threatened when customers buy the materials? Because they can't add their customary 15% to 20% mark-up. It's smart to get more than one labor bid to make sure your new home or cabin gets built on budget, at the lowest cost possible.
Tips about builders that can save you thousands!
Builders often use the old "mark-up" method. They also claim they can buy the materials locally at the same price. Of course, they can't. But their proposal may show lower material costs... while they charge you higher labor costs. (Like a salesman who offers a higher trade-in allowance... but gives you no discount on the price of the car.)
Tip: When the builder claims his materials cost less, ask him for a line-item copy of his materials bid. And then compare his bid to our written quote.
Some builders also "front load" their proposals by over-charging for items you can't trace... like excavation, grading, concrete and foundations. (Front-loaded proposals can also make labor costs appear lower than they really are.)
Tip: Use your Cabin Kit plans to get "labor-only" line-item bids so that builders can't "front load" their costs. Keep control. And don't settle for "lump-sum" labor bids.
Some builders suggest that pre-built "panelized" walls might not fit or work properly.
Tip: However, the National Association of Home Builders says that pre-built "panelized" walls use higher quality kiln-dried materials that always fit, are factory built, structurally engineered, free from weather damage, pass US Customs and all building inspections, and save you thousands of dollars in higher labor costs.
Don't be fooled by "low-ball" bids.
"Low-ball" bids are dangerous. When a builder can't build for the price he quoted, you could be left with a half-completed home... including thousands of dollars in liens and un-paid bills. And regardless of your legal rights, the damages and recovery of lost money can take years to resolve.
Tip: Enjoy the security and peace of mind that makes building your new home or cabin the thrill of a lifetime. Use your Cabin Kit plans to get written, line-item quotes that let you ask questions, get answers, and compare "apples with apples." Your banker will insist on line-item quotes, and so should you.
Your comments and questions are always welcome.
Lake-Front Getaway!
The "Chicory 3BR" Model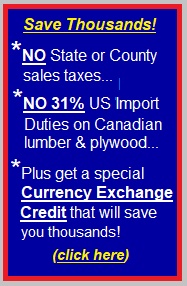 Add a Garage?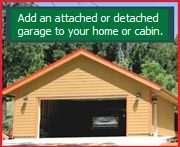 A very special "Thanks"
to customers like these who have helped us become America's #1 Cabin Kit supplier
"We've been customers for years and there is no better home than a Cabin Kit Home. Top quality, and the best service you could ask for."
--Patrick & Barbara, Fortine, MT
"We have been customers for seven-plus years and totally love our Cabin Kit home!"
Mike & Wendy, AZ
"We have several Cabin Kit homes in Arkansas and have been very happy with the quality and the big savings.
Gene Eddleman, AR
"PANELIZED" CABIN KIT
"The panelized package is the only way to go!
--Herman Groman. NV
"Cabin Kit materials are top quality, kiln dried lumber. We saved over $26,000 with their much lower NAFTA pricing."
Dan Leeper, AZ
"The quality of materials is terrific. This is our 4th Cabin Kit package. Your field support is great!"
--Gary Simonsen, Builder, MT
"We really enjoy our Cabin Kit home. The pre-built panels saved us weeks of building time and thousands of dollars in labor costs.
David & Molly Vaux, NM
"We love our cabin. Everything arrived as promised, we'd do it again in a heartbeat. Our builder said he had never seen such quality materials!"
--Vivian and Pixie, CO
We saved more than $16,000 on our new Cabin Kit home, and have been customers for almost 10 years."
Scott and Sandy, ID
"We couldn't be happier. Your design help was great, and the wall panels were perfect. The mountain view from the deck is better than we had hoped."
--Cindy & Dan, WA