- - - - - - - - - - - - - - - - -
PROFILE
Cabin Kit Homes -vs- Log Homes
Don't let your home or cabin become a maintenance nightmare!
Even the best logs twist, split, shrink and "check" as they dry... dripping pitch on your carpet. Logs are also sensitive to humidity and often swell and shrink as humidity changes. Logs crack, settle and shrink... 4 or 5 inches... they cause doors to jam and windows to stick. Logs also need tightening, caulking and chinking to close up holes and gaps (see photos below). And after the home is built, maintenance is as necessary today as it was 200 years ago.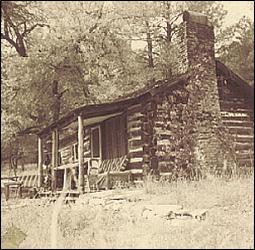 Cabin Kit Homes - Save You Thousands!
Cabin Kit Homes use conventional kiln-dried pre-built "panelized" frame construction. Many of our customers use premium pine or cedar log siding because there's no twisting, no splitting, and no shrinking. It's easy to find a qualified builder-contractor. Cabin Kits are easy to build, cost-efficient, and easy to take care of... ideal for permanent homes as well as vacation getaways. And the total cost is at least 50% less than actual "log" homes or cabins! Don't let your home or cabin become a maintenance nightmare!
Below: Cabin Kit Homes customers can order kiln-dried Ponderosa Pine log siding.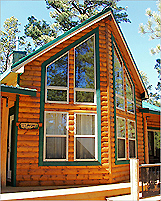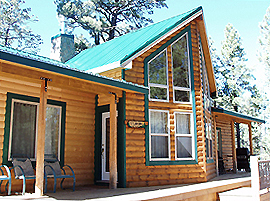 Enjoy the "Log Cabin" look!
Get the "log cabin" look with our optional solid Ponderosa pine or Western Red Cedar log siding. Our solid log siding goes on just like any other wood siding. No special tools, no extra labor, and it's all clear or pre-stained in your choice of colors. It's easy to take care of, won't crack, twist or shrink, and never needs chinking or caulking... and never drips sap on your bedroom carpet!
Below: See our customer's "Foxtail" home with kiln-dried Ponderosa pine log siding.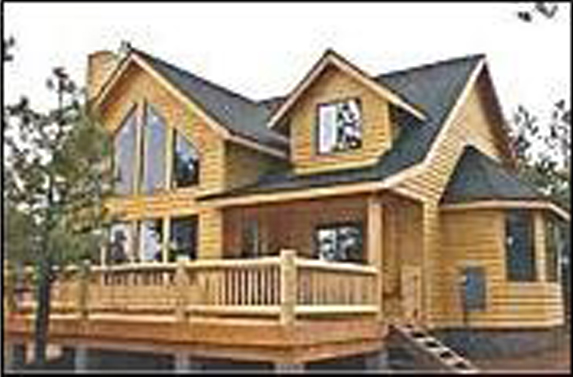 Log Siding

Magic Meadow Home!
The "Hawksbeard" Model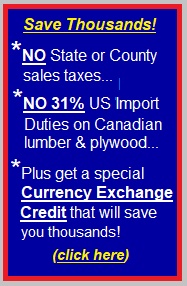 Add a Garage?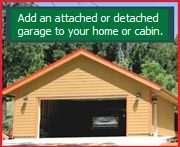 A very special "Thanks"
to customers like these who have helped us become America's #1 Cabin Kit supplier
"We've been customers for years and there is no better home than a Cabin Kit Home. Top quality, and the best service you could ask for."
--Patrick & Barbara, Fortine, MT
"We have been customers for seven-plus years and totally love our Cabin Kit home!"
Mike & Wendy, AZ
"We have several Cabin Kit homes in Arkansas and have been very happy with the quality and the big savings.
Gene Eddleman, AR
"PANELIZED" CABIN KIT
"The panelized package is the only way to go!
--Herman Groman. NV
"Cabin Kit materials are top quality, kiln dried lumber. We saved over $26,000 with their much lower NAFTA pricing."
Dan Leeper, AZ
"The quality of materials is terrific. This is our 4th Cabin Kit package. Your field support is great!"
--Gary Simonsen, Builder, MT
"We really enjoy our Cabin Kit home. The pre-built panels saved us weeks of building time and thousands of dollars in labor costs.
David & Molly Vaux, NM
"We love our cabin. Everything arrived as promised, we'd do it again in a heartbeat. Our builder said he had never seen such quality materials!"
--Vivian and Pixie, CO
We saved more than $16,000 on our new Cabin Kit home, and have been customers for almost 10 years."
Scott and Sandy, ID
"We couldn't be happier. Your design help was great, and the wall panels were perfect. The mountain view from the deck is better than we had hoped."
--Cindy & Dan, WA