Why spend $1 for 65¢ worth of material?
Under "NAFTA" and other foreign trade programs,
the US is focused on steel, aluminum and the automotive industry.
Why? Because of the huge automobile production facilities in Canada and Mexico.
But there have never been any concerns about Canadian lumber.
Why? Because Canadian lumber offers so many cost-saving benefits to US customers.
We are a US company. Under the "NAFTA" free trade program between the US and Canada, lumber and plywood costs you
31% less in Canada than in the US. And with lower "NAFTA" prices and direct shipment from our Canadian mills, you receive
a Currency Exchange Credit, you pay No US Import duties of 31%, and you pay No state sales tax... which saves you thousands!"

You save 35% or more-
No 31% US import duties and tariffs, No state sales tax, plus a special
Currency Exchange Credit for US customers that saves you thousands!


Pre-built "Panelized" walls-
All our homes use "panelized," pre-built wall panels, stairs and a pre-cut roofing system which cuts building time and saves thousands in labor and building costs.

"NAFTA" offers low mill-direct prices-
The best lumber comes from Canada, at the best price. But big local lumber yards like "Lowes" and "Home Depot" pay 31% more to import Canadian lumber.
The result: This costs you thousands more for lumber, labor and higher building costs!


Free Cabin Kit Catalog: click here

Reprint Courtesy, "The Washington Post"
"NAFTA"
North American Free Trade Agreement.
Washington, DC--
As US lumber prices continue to rise, US companies offering building materials packages from Canada can save consumers thousands of dollars when it's time to build.
Under "NAFTA," the North American Free Trade Agreement, US companies with mills and suppliers in Canada can ship top-quality lumber, plywood and other building materials at prices up to 38% less than the prices charged by your local lumber store or building center.
Here's why: To protect the large US lumber producers, the US government charges 31% in duties and import fees on all Canadian lumber, plywood and building materials. But for US companies operating under NAFTA, there are no tariffs and no import fees. And no state sales tax.
Canada has long been recognized for high quality lumber and plywood... the main building components in every home.
With interest rates near record lows, saving thousands in building costs can be another incentive for customers to build the home or vacation cabin they always wanted.
Our Cabin Kit packages are complete "panelized," weather-tight structural shell packages" from our own Canadian forests and mills. Everything you need is included... from the top of the foundation to the top of the roof!
We are always happy to answer your questions. Please feel free to call us toll free: 1-888-358-1113.
Magic Mountain Pines!
"Astoria" Model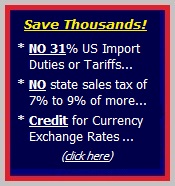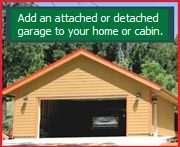 A very special "Thank You"
to customers like these who have helped us become America's #1 Cabin Kit supplier

"We've been customers for years and there is no better home than a Cabin Kit Home. Top quality, and the best service you could ask for."
--Patrick & Barbara, Fortine, MT
"We love our cabin, thank you and your company so much."
--Patti & Michael, CA
"We have been customers for seven-plus years and totally love our new Cabin Kit home!"
Mike & Wendy, AZ
"We have several Cabin Kit homes in Arkansas and have been very happy with the quality and the big savings.
Gene Eddleman, AR
"PANELIZED" CABIN KIT
"The panelized package is the only way to go!
--Herman Groman. NV
"Cabin Kit materials are top quality, kiln dried lumber. We saved over $26,000 with their much lower NAFTA pricing."
Dan Leeper, AZ
"The quality of materials is terrific. This is our 4th Cabin Kit package. Your field support is great!"
--Gary Simonsen, Builder, MT
"We really enjoy our Cabin Kit home. The pre-built panels saved us weeks of building time and thousands of dollars in labor costs.
David & Molly Vaux, NM
"We love our cabin. Everything arrived as promised, we'd do it again in a heartbeat. Our builder said he had never seen such quality materials!"
--Vivian and Pixie, CO
We saved more than $16,000 on our new Cabin Kit home, and have been customers for almost 10 years."
Scott and Sandy, ID
"We couldn't be happier. Your design help was great, and the wall panels were perfect. The mountain view from the deck is better than we had hoped."
--Cindy & Dan, WA