- - - - - - - - - - - - - - - - -
New 2016 Prices
Cabin Kit Homes
Effective February 1, 2016
Cabin Kit
$US Prices

ONE LEVEL PLANS

"DEERFERN" - 720sf

1 BR, loft

$47,900

- - - - - - - - - - - - - - - - -

"BETONY" - 720sf

2 BR
$55,500
- - - - - - - - - - - - - - - - -

"BETONY 2" - 884sf

2 BR

$67,900

- - - - - - - - - - - - - - - - -

"MANZANITA" - 1,282sf

2 br+office/den

$84,500

TWO LEVEL PLANS

"REDSTONE" - 886sf

1 BR+loft

$63,500
- - - - - - - - - - - - - - - - -

"KINNIKINNICK" - 998sf

2 BR+loft

$65,550
- - - - - - - - - - - - - - - - -

"HAWKSBEARD"- 1,113sf

2 BR+loft

$69,900
- - - - - - - - - - - - - - - - -

"TRILLIUM" - 1,128sf

2 BR+ big loft

$74,900

- - - - - - - - - - - - - - - - -

"SWEETFLAG" - 1,193sf

1 BR+ big loft

$79,900

- - - - - - - - - - - - - - - - -

"LARKSPUR" - 1,312sf

2 BR+ big loft

$76,500

- - - - - - - - - - - - - - - - -

"ROCKRIDGE" - 1,236sf

2 BR+ big loft

$89,500
- - - - - - - - - - - - - - - - -

"FOXTAIL" - 1,510sf

3 BR+ big loft

$99,900

See "Foxtail" being built
- - - - - - - - - - - - - - - - -

"BLUE GRASS" - 1,664sf

3 BR/2ba

$103,750
- - - - - - - - - - - - - - - - -

"PAINT BRUSH" - 1,883sf

3 BR/2.5+ loft

$124,900
- - - - - - - - - - - - - - - - -

The "PEAKS" - 1,885sf

2 BR+ big loft

$121,900
- - - - - - - - - - - - - - - - -

"CHICORY 2" - 1,496sf

2 BR+ big loft

$95,750

- - - - - - - - - - - - - - - - -

"CHICORY 3" - 1,740sf
3 BR+ big loft
$105,900
- - - - - - - - - - - - - - - - -

"ASTORIA" - 1,775sf

3-4 BR/2.5 loft

$104,500
- - - - - - - - - - - - - - - - -

"BUCKTHORN" - 2,311sf

3-4 BR/2.5 loft

$146,500
- - - - - - - - - - - - - - - - -

- - - - - - - - - - - - - - - - -

Complete exterior shell package - "Everything you need from the top of the foundation to top of the roof"

US prices effective February 1, 2016
Customize Your Home or Cabin
Why spend $1 for 65¢ worth of material?
"Lumber and plywood costs you 31% less in Canada than in the US...
and there are no 31% US import duties or tariffs, no state sales tax to US customers, and
a better currency exchange rate that will save you thousands!
Custom Homes and Cabins - Your Plan or Ours.
"Customize" any plan to meet your requirements. Use Cabin Kit plan sheets from our free catalog to show us the changes you want. Then tell us where... in which state and which county your property is located. Then send us your plans for review by our professional design staff. Just follow the steps below.
Executive "Peaks" model
Example: We can help you "customize" any of our Cabin Kit plans... like the "Manzanita," "Blue Grass" and "Foxtail" models shown below.
Custom "Manzanita" Model: San Diego area - 2013
Custom "Blue Grass" model
Example: A customized "Foxtail" model with tall windows, loft office, art walls, center fireplace and big island kitchen.
Custom "Foxtail" model
Here are the steps to get started:
First, tell us where... in which state and county... your property is located. Then, send us the plan page from our catalog... or send us your floor plans and elevation sketches... showing the changes or modifications you want to make.

Include dimensions, floor plans and exterior elevation sketches of your plan.
1. Direct fax: (858) 925-7941.
2. Send us an email attachment to: george@cabinkit.com
* Note: Email attachments should use jpg, gif, or pdf image format.

Please include your name, phone number and email address on what you send.

The information you send will help us provide you with the following:
1. Estimated design costs to create the plans you want, and
2. Estimated cost of your Home or Cabin Kit materials package.
Your questions and comments are always welcome. Feel free to email us... or call directly, toll free: 1-888-358-1113.
Mountain Party Home
"PEAKS" Model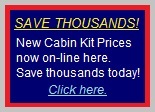 A very special "Thank You"
to customers like these who have helped us become America's #1 Cabin Kit supplier
We've been customers for years and there is no better home than a Cabin Kit Home. Top quality, and the best service you could ask for.
--Patrick & Barbara, Fortine, MT
"We love our cabin, thank you and your company so much."
--Patti & Michael, CA
"We have been customers for seven-plus years and totally love our new Cabin Kit home!"
Mike & Wendy, AZ
"We have several Cabin Kit homes in Arkansas and have been very happy with the quality and the big savings.
Gene Eddleman, AR
"PANELIZED" CABIN KIT
"The panelized package is the only way to go!
--Herman Groman. NV
"Cabin Kit materials are top quality, kiln dried lumber. We saved over $26,000 with their much lower NAFTA pricing."
Dan Leeper, AZ
"The quality of materials is terrific. This is our 4th Cabin Kit package. Your field support is great!"
--Gary Simonsen, Builder, MT
"We really enjoy our Cabin Kit home. The pre-built panels saved us weeks of building time and thousands of dollars in labor costs.
David & Molly Vaux, NM
"We love our cabin. Everything arrived as promised, we'd do it again in a heartbeat. Our builder said he had never seen such quality materials!"
--Vivian and Pixie, CO
We saved more than $16,000 on our new Cabin Kit home, and have been customers for almost 10 years."
Scott and Sandy, ID
"We couldn't be happier. Your design help was great, and the wall panels were perfect. The mountain view from the deck is better than we had hoped."
--Cindy & Dan, WA