- - - - - - - - - - - - - - - - -
PROFILE

Here's what the National Association of Home Builders says about "Panelized Building Systems."
Savings, Benefits and Advantages to you-
Lower costs—Saves thousands of dollars in labor and building costs.

Time saved—Gets your home "dried in" in just days instead of weeks.

Happy Builders—Saves time and thousands of dollars in on-site labor costs.

Cuts building time-- 10 to 15 days versus 4-6 weeks.

"Panelized" Plans—Easy to read, easy to build, easy to understand.

Higher quality—Precision pre-built wall panels, plus pre-cut roof system.

Quick, Easy—Numbered panels, easy to handle, quick to install.

Convenience—Eliminates errors, eliminates waste.
Time Saving, labor-saving, cost-saving pre-built "panelized" packages... at no additional cost. These packages include the following:
Pre-built 6"-thick exterior sheathed wall panels,

Pre-built 4"- & 6"-thick interior wall panels,

Pre-cut roofing system with 2"x12" rafters,

Premium "Low E" insulated double-glazed windows,

Pre-built stairs (per plan),

Complete "panelized" drawings... with numbered panels and floor plans for fast, easy placement and installation of each panel, and

The confidence and peace of mind of getting your home built quicker, at lower cost to you... in 10 to 15 days -vs- 6 to 8 weeks.
What you provide: Concrete foundation, rough plumbing, electric and insulation, plus the interior finish items that you choose.
Delivery Time: Only 8 weeks from date of initial deposit.
Mountain Party Home!
The "Peaks" Model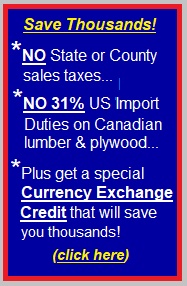 Add a Garage?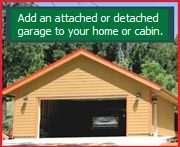 A very special "Thanks"
to customers like these who have helped us become America's #1 Cabin Kit supplier
"We've been customers for years and there is no better home than a Cabin Kit Home. Top quality, and the best service you could ask for."
--Patrick & Barbara, Fortine, MT
"We have been customers for seven-plus years and totally love our Cabin Kit home!"
Mike & Wendy, AZ
"We have several Cabin Kit homes in Arkansas and have been very happy with the quality and the big savings.
Gene Eddleman, AR
"PANELIZED" CABIN KIT
"The panelized package is the only way to go!
--Herman Groman. NV
"Cabin Kit materials are top quality, kiln dried lumber. We saved over $26,000 with their much lower NAFTA pricing."
Dan Leeper, AZ
"The quality of materials is terrific. This is our 4th Cabin Kit package. Your field support is great!"
--Gary Simonsen, Builder, MT
"We really enjoy our Cabin Kit home. The pre-built panels saved us weeks of building time and thousands of dollars in labor costs.
David & Molly Vaux, NM
"We love our cabin. Everything arrived as promised, we'd do it again in a heartbeat. Our builder said he had never seen such quality materials!"
--Vivian and Pixie, CO
We saved more than $16,000 on our new Cabin Kit home, and have been customers for almost 10 years."
Scott and Sandy, ID
"We couldn't be happier. Your design help was great, and the wall panels were perfect. The mountain view from the deck is better than we had hoped."
--Cindy & Dan, WA