Why spend $1 for 65¢ worth of material?
US building codes are the toughest in the world. Our Home and Cabin Kit packages use top-quality kiln-dried lumber and materials. Guaranteed to meet or exceed all codes and building standards. And accepted by all US and Canadian building officials & inspectors.
Our Home and Cabin Kit packages include:
Pre-built "Panelized" Packages... at lower prices! - Pre-built exterior and interior wall panels, pre-cut roof system, pre-built stairs (per plans), all hardware, nails and fasteners, and complete framing plans save you thousands in building and labor costs.

New, Lower Delivery Costs - The huge savings are outstanding! To check out the savings, click here.

Windows - Premium "Low-E" insulated glass leaves 70% of the weather outdoors. NFRC approved with reinforced frames. Smooth operation, windows lock tightly, with screens included.

Lumber and Plywood - Kiln dried... precision cut, no waste, keeps costs low.

Beams - Solid "glue-lam," "tech-lam," "micro-lam" and "gang-lam" beams... precision-engineered for the perfect fit.

Exterior Siding - Top quality 8" Western Red Cedar... pre-stained, insect and rot resistant, best protection, lowest maintenance. Optional log siding available.

Roofing - Top quality ribbed steel, fire-safe, color-safe, wind and weather tight with pre-cut panels for fast, easy installation.

Exterior Doors - Energy efficient, decorative insulated steel with "half-lite" insulated glass... lock-tight, weather-tight fit for security and comfort.

Interior Doors - Decorative six-panel passage doors with hardware, pre-hung and pre-drilled for privacy, appearance and easy installation.

Customer Service - Experienced staff of building professionals assures you and your builder of full support, service, confidence and peace of mind throughout the planning and building process. A family-owned business for over 100 years!

"Fast Trak" - Exclusive "Fast-Trak" program includes engineered plans for fast building permit approval.
* "North American Free Trade Agreement" - Duty-free, tariff-free trade between the US and Canadian governments... and no state sales tax to our US customers.
Executive Retreat!
"Paint Brush" Model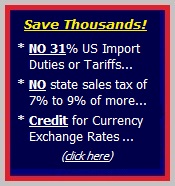 A very special "Thank You"
to customers like these who have helped us become America's #1 Cabin Kit supplier

"We've been customers for years and there is no better home than a Cabin Kit Home. Top quality, and the best service you could ask for."
--Patrick & Barbara, Fortine, MT
"We love our cabin, thank you and your company so much."
--Patti & Michael, CA
"We have been customers for seven-plus years and totally love our new Cabin Kit home!"
Mike & Wendy, AZ
"We have several Cabin Kit homes in Arkansas and have been very happy with the quality and the big savings.
Gene Eddleman, AR
"PANELIZED" CABIN KIT
"The panelized package is the only way to go!
--Herman Groman. NV
"Cabin Kit materials are top quality, kiln dried lumber. We saved over $26,000 with their much lower NAFTA pricing."
Dan Leeper, AZ
"The quality of materials is terrific. This is our 4th Cabin Kit package. Your field support is great!"
--Gary Simonsen, Builder, MT
"We really enjoy our Cabin Kit home. The pre-built panels saved us weeks of building time and thousands of dollars in labor costs.
David & Molly Vaux, NM
"We love our cabin. Everything arrived as promised, we'd do it again in a heartbeat. Our builder said he had never seen such quality materials!"
--Vivian and Pixie, CO
We saved more than $16,000 on our new Cabin Kit home, and have been customers for almost 10 years."
Scott and Sandy, ID
"We couldn't be happier. Your design help was great, and the wall panels were perfect. The mountain view from the deck is better than we had hoped."
--Cindy & Dan, WA
Toll free
1-888-358-1113
contact us
"Cabin Kit Homes"™
is a licensed trademark and dba of Home & Cabin Services, Inc.,
a nationwide US company and an Arizona corporation. © 2000-2018